On November 17, 2022, TUFF was honored to sponsor a table at the Corridors of Opportunity: Oakland event where an expert panel discussed current and future developments, as well as where business opportunities exist, in this active corridor of Pittsburgh.
The Pittsburgh Business Times held this informative event at the University of Pittsburgh Alumni Hall and panelists included Anish Kumar, Vice Chancellor of Real Estate, University of Pittsburgh, Georgia Petropoulos, CEO, Oakland Business Improvement District, and John Krolicki, Vice President-Facilities and Support Services, UPMC Presbyterian Shadyside and UPMC Children's Hospital of Pittsburgh. Visit the full article published by the Pittsburgh Business Times here.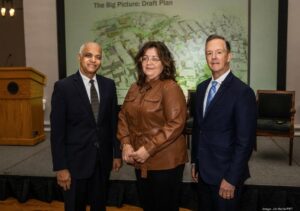 UPMC's new bedtower project at the UPMC Presbyterian campus was a focus of discussion as the largest new development project in Oakland at 1 million square feet and expected build costs north of $1 billion. Also discussed was Pitt's new Recreation and Wellness Center to be followed by an athletic arena project to replace Fitzgerald Field House.
Some big demands were touched upon during the event, including adding research facility capacity to the area to enable better commercialization of research endeavors, and new housing needs with focus on accommodating working adults.
In 2021, TUFF acquired an existing wet lab, classroom, and patient-facing specialty research facility in the Oakland neighborhood known as Bridgeside Point 1, along with land for future development, in order to provide a platform to support the growth of university research enterprises and advance the knowledge-based economy in the Pittsburgh region. The building is primarily leased to various departments of the University of Pittsburgh, with additional tenants including UPMC Healthcare and private biotech companies' headquarters and research space. Through TUFF's partner Collaborative Real Estate, we have improved the quality of facility management services while adding community activation as a practice that connects practicians, faculty, and researchers across multiple disciplines.
TUFF's table was hosted by Dominick Constanza and Amanda Weaver of Collaborative Real Estate, and our distinguished guests included Steven J. Guy and Michael Bernard from Oxford Development, Mike Harding and James Myers from the Pittsburgh Regional Alliance, Sean Luther from Innovate PGH, and Christian Manders from Promethean Life Sciences. We look forward to continued partnership with these innovative leaders and others in the Oakland Corridor to help advance the bold agenda of the Pittsburgh Innovation District.