Friday, September 16, marked a celebratory occasion for Emory University in TUFF's newly acquired facility in the Atlanta suburb of Decatur, GA. The Emory University Nell Hodgson Woodruff School of Nursing officially opened the doors to a new state-of-the-art Emory Nursing Learning Center (ENLC).
The grand opening welcomed students, faculty, staff, and local community members to the 70,000-square-foot space and included tours of the facility, demonstrations of the latest tech tools, a ribbon-cutting ceremony, and speeches from Emory and community dignitaries regarding the importance of this cutting-edge simulation lab and learning facility.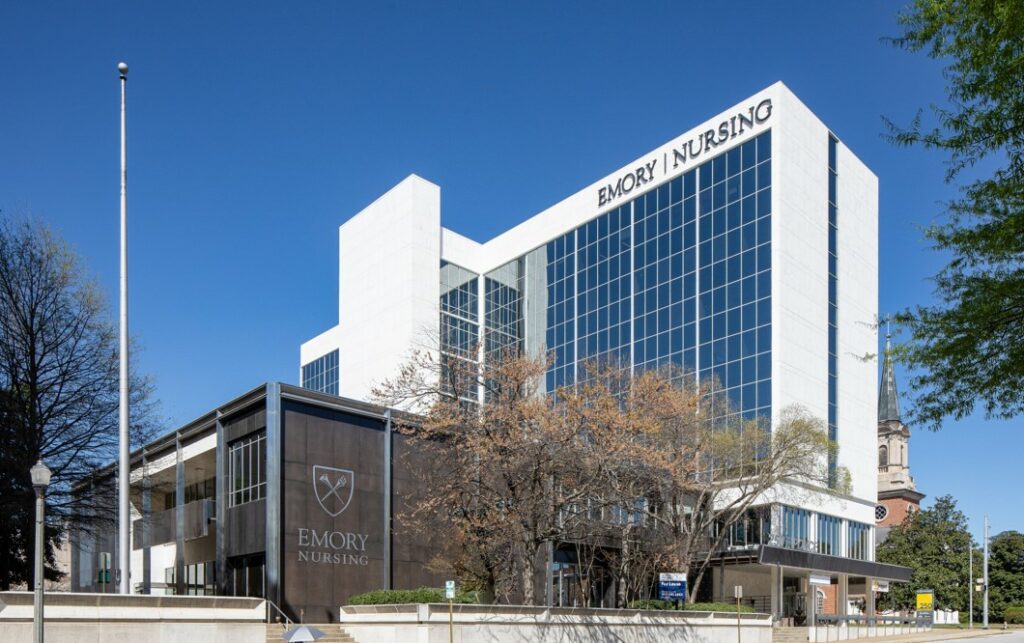 "We are excited to provide this immersive learning experience for our students," said Linda McCauley, dean of the Nell Hodgson Woodruff School of Nursing. "This realistic environment featuring state-of-the-art classrooms and simulation lab space will uniquely prepare our students to care for patients in a wide variety of clinical and home health settings. When you step into the building, you know that you have arrived at a place dedicated to preparing nurse leaders."
Emory President George Fenves lauded Dean McCauley and said, "The ENLC will provide our nursing students with unparalleled opportunities for experiential learning, preparing them to become leaders and provide compassionate, targeted support for patients throughout their careers."
David S. Stephens, MD, interim executive vice president for health affairs and interim executive director of the Woodruff Health Sciences Center, also took the opportunity to compliment Dean McCauley and President Fenves, further commenting, "In the face of a critical nationwide nursing shortage, the need for nurses has never been more evident. The ENLC will directly address this shortage by preparing nurse leaders to serve their communities in a multitude of practice settings."

The $20.6 million expansion includes an impressive simulation and skills lab with interactive technology to help emulate real-life experiences in the field and is also equipped with a CenterWell Home Health Lab, which replicates a small apartment in order to practice plausible scenarios such as helping patients in hospice care, post-surgical care, and geriatric home care.
Also unique to the ENLC is their very own in-house "patient," Gaumard's HAL S5301, which operates via artificial intelligence. Emory is the first nursing school in the world to use this manikin, which is engineered to fulfill educational objectives across clinical disciplines and blur the lines between simulation and real life.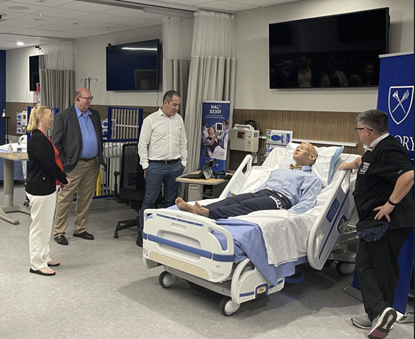 In addition to Dean McCauley, President Fenves and Dr. Stephens, distinguished speakers at the ribbon-cutting included Emory Board of Trustees member John Rice, 2022 Master of Nursing Class President Jadaria Thomas, Emory Healthcare Chief Nurse Executive Sharon Pappas, Decatur City Commissioner Kelly Walsh, and DeKalb Chamber of Commerce President Frankie Atwater.
Another milestone was achieved on August 23 and 24 at the facility. Students "moved in" and began to attend classes. The two-day student orientation included gatherings of students, faculty and staff for food, fun and other festivities.
During orientation, approximately 800 people gathered in the Learning Center's atrium to enjoy an interactive orientation complete with a tour of the new state-of-the-art simulation labs and classrooms, 3D photo ops with new classmates, and complimentary pizza and King of Pops. The celebration also included the 150-year-old Emory tradition of participating in a Coke Toast.
TUFF acquired this facility in September 2021 and has made significant advancements in the creation of programs that allow Emory students, faculty and staff to interact with the adjacent industry tenants, creating a version of a vertical innovation district similar to TUFF-owned Tech Square at Georgia Tech. Many Emory nursing students and faculty are innovators, and the activation of the space in the new learning center gives them a physical outlet to develop their ideas.
Congratulations to the Emory School of Nursing for the successful launch of this one-of kind-facility, and for their dedication to continue setting the standards of excellence and creating an environment designed to enhance nursing education and teaching methods by embracing innovation and technology.