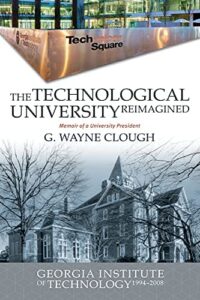 In the mid-1990's, a dilemma existed for President Wayne Clough, similar to the dilemma that most college presidents face during their tenure; ensure long-term stability and relevance through both the examination of Georgia Tech's current state and the creation of a strategic vision to grow exponentially.  Dr. Clough embraced the dilemma and made several enhancements and adjustments to the programmatic, human and physical assets during his presidency.  The book is entitled "The Technological University Reimagined" and chronicles the changes to Georgia Tech during his tenure from 1994-2008.
One of the most profound changes to Georgia Tech during Dr. Clough's leadership was the development of Tech Square.  Tech Square today is recognized as one of the leading innovation communities in the country.  It started as Georgia Tech recognized the need to expand its physical footprint eastward in order to meet its long-term needs.
This expansion required many partners from the faculty and students at Georgia Tech, the Georgia Tech Foundation, local industry and TUFF.  Dr. Clough recounts the process of developing Tech Square, including the crucial partnership developed with  TUFF founder and Georgia Tech Alumnus Tom Hall to provide the needed capital to secure the land under which half of Tech Square sits.
Dr. Clough later went to serve as Secretary of the Smithsonian Institute and now is back in Atlanta as a faculty member at Georgia Tech, observing daily the continued success of his Alma Mater, much of which is a result of his fourteen years of leadership.  Provided below is a link where you can purchase your own copy of "The Technological University Reimagined."