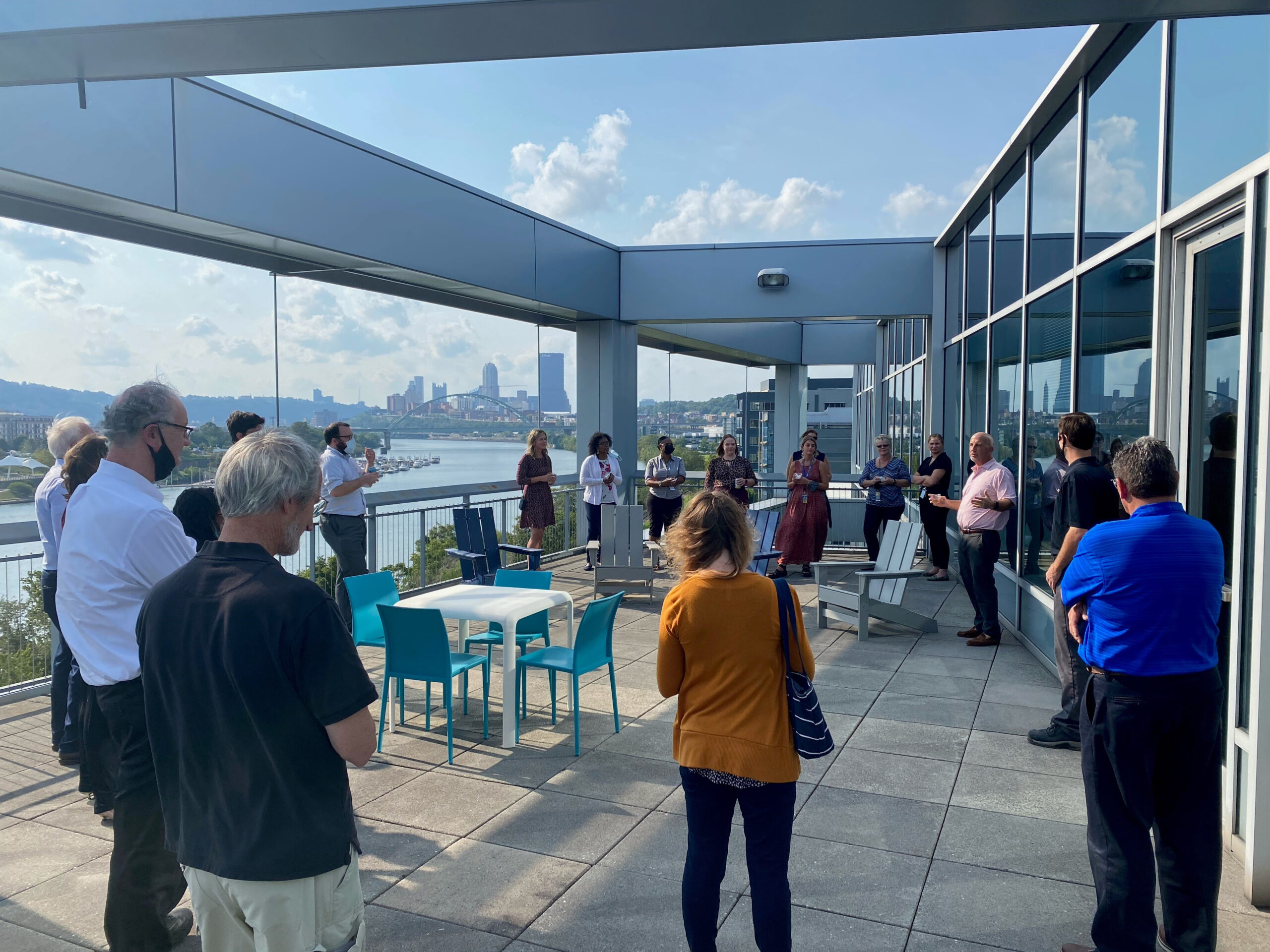 Community members from throughout Bridgeside Point One enjoyed complimentary cocktails on the facility's scenic rooftop courtyard overlooking the Monongahela River at the inaugural community activation event hosted by TUFF and Collaborative Real Estate on September 14, 2021. Titled "Building the Bridge," the goal of the event was to introduce intentional facility-based programming and brainstorm as a community new ideas for continued collaboration between tenant departments and the outside community.
Located in the Pittsburgh Technology Center in Pittsburgh, PA, Bridgeside Point One is an active life sciences research center with academic and commercial tenants spanning multiple medical and life science disciplines.  TUFF acquired Bridgeside Point One earlier in 2021 with an intent to support an active innovation ecosystem that will provide meaningful value to the scientists working there.  As active owners and developers of innovation and research facilities, TUFF creates programming to bring people together to spark collaboration.
Activation events are curated experiences thoughtfully designed to create unique conditions that strengthen the culture of the community. Attendees of this event participated in a lively discussion about the importance of a network effect that supports innovation, and also submitted their ideas for future community events such as seminars and lectures from current tenants, multimedia content for the newly installed media screens throughout the facility, making use of collaboration spaces and more community social events. The event was well-attended with active community participation. More events and community developments will continue to be specifically curated for the members of this community.
Partnering with Collaborative Real Estate as community and activation managers, TUFF is developing a collaborative and ever-expanding innovation community at Bridgeside.  All faculty, students, and employees working in the building are invited to participate in this new community.