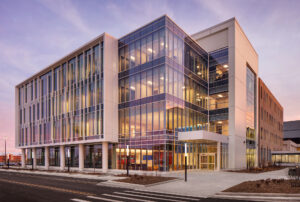 SHIELD Illinois, a nonprofit unit of the University of Illinois System, is the newest tenant to join Rosalind Franklin University's Innovation and Research Park (IRP). The organization provides free saliva-based COVID-19 testing for public schools across the state of Illinois.
This innovative saliva-based testing process, known officially as covidSHIELD, was granted emergency use authorization by the U.S. Food and Drug Administration in February. The tests have drawn significant global interest since it was first launched at the system's three universities in 2020.
The CLIA federally certified facility, located at the IRP, will process tests from school districts located across northeastern Illinois and will not profit from the tests. SHIELD Illinois' lab network also includes six other facilities located throughout the state.
The organization is mission-aligned with the University's Clinical Immunology Laboratory and Center for Cancer Cell Biology, Immunology and Infection. SHIELD Illinois joins fellow IRP tenant Inspirotec at what is quickly becoming the hub of bioscience in the Chicago area.