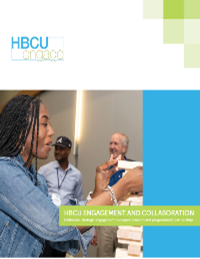 UIDP has launched the HBCU Engage 2023 eMagazine, summarizing key takeaways from their annual event that shares practical ways to deepen research and programmatic partnerships among HBCUs and partners from industry, government, nonprofits, universities, and other institutions.
TUFF was proud to sponsor this April 2023 event, hosted in Nashville, TN, that attracted representatives from 54 HBCU organizations, as well 119 other organizations that are dedicated to helping HBCUs achieve their research and program priorities.
The HBCU Engage 2023 eMagazine shares session descriptions, photos, and key learnings, including important concepts from the Building Innovation Districts panel with insight shared from TUFF President and CEO, Kevin Byrne. You can learn more and download the eMagazine here.