The ATL Unlocked Tour is a series of events, activated by the Metro Atlanta Chamber, that invites entrepreneurs to experience different innovation centers and districts across metro Atlanta and connect with the people within them, building familiarity and mutual trust. ATL Unlocked aims to open doors between our region's diverse community of creators, innovators, founders, and entrepreneurs. The goal is to transform metro Atlanta into an accessible ecosystem where creators, innovators, founders, and entrepreneurs thrive, sharing knowledge across diverse perspectives.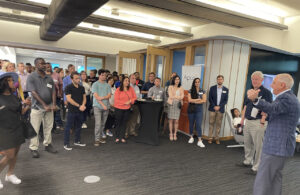 The inaugural 2022 ATL Unlocked Tour covers five key Innovation and Entrepreneurial Centers:
Buckhead: Atlanta Tech Village
Downtown/Westside: Russell Innovation Center for Entrepreneurs
Midtown: ATDC
Alpharetta: Tech Alpharetta
Peachtree Corners: Atlanta Tech Park and Curiosity Lab at Peachtree Corners
TUFF and Collaborative Real Estate had the honor of co-sponsoring the Midtown event on July 21, 2022 which kicked off at the Advanced Technology Development Center (ATDC) and featured an impressive line-up of speakers including John Avery, Director of ATDC, Alex Gonzalez, CIO of the Metro Atlanta Chamber and our own President and CEO, Kevin Byrne.
Kevin's message opened with a passionate declaration: "I have the coolest job in the world because I get to go around the country and develop places like this AND brag about the greatness of Tech Square and the entire Atlanta innovation ecosystem. Most people I talk to want exactly what we have here in Atlanta." After describing common themes of successful innovation communities around the country, anchored in the best practices of Tech Square, Kevin shared that "Our goal, as a (co)sponsor, is for tonight to be 'engineered serendipity'. We create the environment for you to have chance meetings with others. You develop a new friendship or partner and leverage that chance meeting into something new.  And that is the essence of our Atlanta innovation ecosystem; getting the best and brightest people to collide and collaborate. You all know it and live it daily."
The event later moved on to the TechSquare ATL Clubhouse for an exciting after-party of dessert, networking, puzzle challenges and raffles. Check out all the details on the Tech Square ATL website here.