TUFF and Collaborative Real Estate are excited to share the latest issue of The Book, a visual retrospective of how our communities learned and grew, both personally and professionally, over the last 12 months. Compiled together, the stories shared reflect attention extended to ensure students, faculty, entrepreneurs, researchers, and any citizen of the community are enriched daily.
2023 ushered in an accelerated pace of innovation, fostering intense local, regional, and global collaboration. Focus on health, wellness, sustainability, and a need for adaptability in response to unexpected challenges has been paramount.
This edition includes innovative activation for properties under management at Tech Square in Atlanta, GA, Bridgeside Point I in Pittsburgh, PA, and 250 E Ponce De Leon Avenue which houses the Emory University – Nell Hodgson Woodruff School of Nursing Learning Center in Decatur, GA.
Activations highlighted include Coffee Talks, Power Meals, Fireside Chats, Pop-Ups, Recesses, Experiments, Partner Engagements, and Showcases to name a few!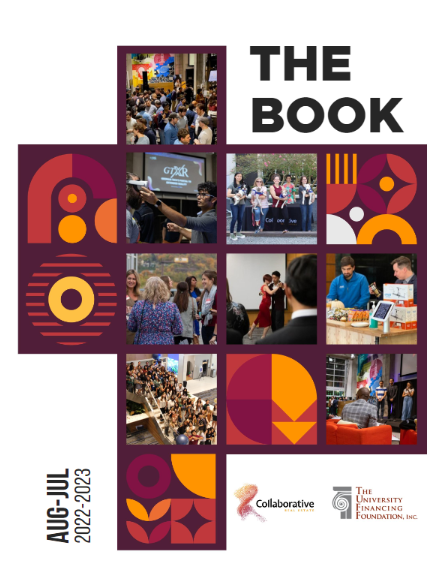 Living and experiencing all that our communities have to offer over the last year has been exhilarating. These are places where collaboration, content exchange, the birth of new enterprises, and the constant generation of ideas converge to shape a bright future.
Tech Square
Tech Square is home to Georgia Tech's innovation and research community developed in 2001 in a collaboration between Georgia Tech, TUFF, and Gateway Development. Located in Midtown Atlanta, Tech Square has the highest density of startups, corporate innovators, academic researchers, and students in the southeastern United States.
Bridgeside Point 1
Bridgeside Point I is a five-story, 160,000 square foot life sciences academic and research facility located on the banks of the scenic Monongahela River in the Pittsburgh Technology Center of Pittsburgh, PA. The facility features a mix of wet and dry labs, offices, and research and classroom space and is primarily leased to various departments of the University of Pittsburgh, with additional tenants including UPMC and private biotech companies' headquarters and research space.
250 E Ponce de Leon Ave
Located five minutes from the main Emory University Campus and ten minutes from Midtown and Downtown Atlanta, 250 E Ponce de Leon Avenue is a nine-story, 145,000 square foot facility anchored by nationally top-ranked Emory University – Nell Hodgson Woodruff School of Nursing. The building also houses a mix of other innovative tenants in such fields as information technology, medical research, architecture, and media.
Thank you and enjoy!
The TUFF Team