The Book is the much anticipated review of the multitude of activities that TUFF and Collaborative Real Estate produce over a period of time within communities of innovation, and reflects the world class attention extended to ensure students, faculty, entrepreneurs, researchers, and any citizen of the community are enriched daily.
We are excited to share this latest January to July 2022 issue of The Book which highlights the events and stories of people interacting along their respective 'Live-Work-Play-Learn' journeys. Those journeys are full of unusual, interactive, and engaging events which bring people together to achieve great things within these innovation based facilities.
This edition includes innovative activation for properties under management at Tech Square in Atlanta, GA, Bridgeside Point I in Pittsburgh, PA, and 250 E Ponce De Leon Avenue which houses the recently opened Emory University – Nell Hodgson Woodruff School of Nursing Learning Center in Decatur, GA.
Each issue of The Book depicts a moment in time: a visual retrospect of how we learned and grew – both personally and professionally. Compiled together, these stories form the historical record of the evolution of our incredible communities.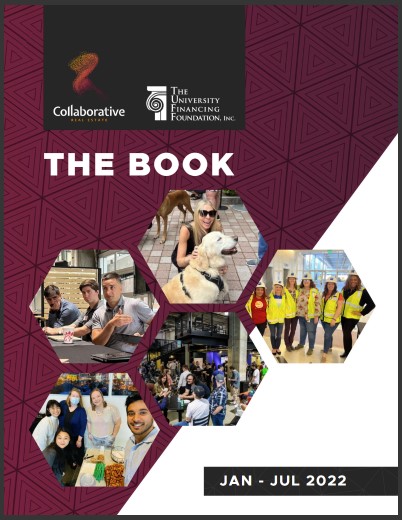 Access your online copy here.
Community focused programming embraces activity which constantly and intentionally brings students, residents, and industry together to create a sense of 'Citizenship.' Our goal for our citizens is to achieve 'Engineered Serendipity' – activity that intentionally removes barriers and causes collision. Often those collisions lead to something greater by generating innovative ideas that may not otherwise have come to light. Activations highlighted include Coffee Talks, Power Meals, Fireside Chats, Pop-Ups, Experiments, and Showcases to name a few!
Tech Square
Tech Square is home to Georgia Tech's innovation and research community developed in 2001 in a collaboration between Georgia Tech, TUFF, and Gateway Development. Located in Midtown Atlanta, Tech Square has the highest density of startups, corporate innovators, academic researchers, and students in the entire southeastern United States.
Bridgeside Point 1
Acquired by TUFF in June 2021, Bridgeside Point I is a five-story, 160,000 square foot life sciences academic and research facility located on the banks of the scenic Monongahela River in the Pittsburgh Technology Center of Pittsburgh, PA. The facility features a mix of wet and dry labs, offices, and research and classroom space.
250 E Ponce de Leon Ave
Located five minutes from the main Emory University Campus and ten minutes from Midtown and Downtown Atlanta, 250 E Ponce de Leon Avenue is a nine-story, 145,000 square foot facility anchored by nationally top-ranked Emory University – Nell Hodgson Woodruff School of Nursing. Occupying approximately half of the space and recently celebrating their grand opening in September is the School of Nursing's new Emory Nursing Learning Center (ENLC), designed to enhance nursing education and teaching methods by embracing innovation and technology. The building also houses a mix of other innovative tenants in such fields as information technology, medical research, architecture, and media.
As you turn each page and experience the journey thus far in 2022, we hope you are inspired to engineer the next collision within your own community. If we all took the opportunity to meet just one new person or participate in one event of interest, just imagine what opportunities the coming year could bring?
Thank you and enjoy!
The TUFF Team